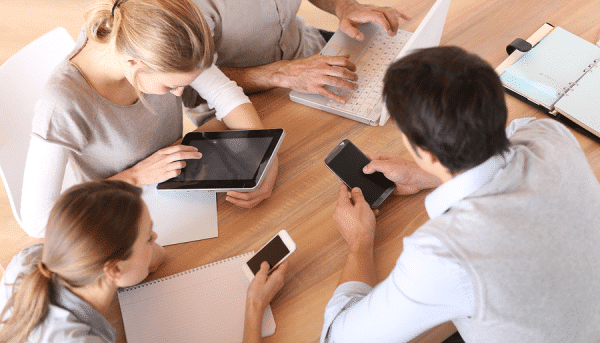 It's official. The mobile web is not a passing fad. It's mainstream and here to stay. If anything, it's picked up steam.
If your website was built more than 3-4 years ago, chances are it's already out-of-date and not mobile-friendly.
Mobile-friendly means when your site is viewed on a smartphone:
Pages load quickly. (About 2 seconds or less per page.)
Text is easy to read without pinching, zooming or panning.
Links and buttons are large enough and far enough apart making your site easy to navigate.
In general, your site provides a great user experience.
Unfortunately older websites built with static HTML code don't play nice with smartphones. Your full website shrunk down to the size of a smartphone display isn't going to cut it anymore.
The key to a mobile-friendly website is mobile responsive design.
What Exactly Is Mobile Responsive Design?
When your website detects the size of the device you're using (i.e. desktop, tablet or a smartphone) it automatically morphs and rearranges itself to provide an optimum user experience. That's mobile responsive design.
The term "responsive" is used because your site responds and adapts to the device.
[wp_lightbox_anchor_text_mp4_video link="https://www.markbrinker.com/wp-content/uploads/mobile-responsive-design-examples.mp4″ width="640″ height="480″ text="Here's a quick video to further illustrate mobile responsive design" ]
Why This Is Important
Very simply, your visitors expect it now.
Three or four years ago, even as recently as 2013, a person viewing a website from their smartphone just accepted a dismal mobile experience as the norm because the vast majority of sites looked awful on a mobile device.
But things have changed.
Web development technology has evolved rapidly in the past few years, now making it possible to design a site that looks amazing and functions beautifully on all device sizes.
But it goes beyond just looking modern and up-to-date. Data shows having a mobile-ready site is good for business:
90% of people move between devices to accomplish a goal, and it takes about 6 visits to a company's website before the average person decides to buy. As prospective customers move toward a buying decision do you really want to leave a sour taste in their mouth by giving them a bad mobile experience when they interact with your website?
Google is now using mobile as a search engine ranking signal. In late 2014 Google started notifying sites about "mobile usability" issues indicating that not having a mobile-friendly site could affect your search engine rankings. In February 2015, Google confirmed that having a mobile-friendly site is indeed a ranking signal and will have a significant impact on mobile search results.If you do a Google search from a smartphone now, Google will list a site as "mobile-friendly" right in the search listings letting the user know they can expect a good mobile experience if they click on that search listing. To see if Google views your site as mobile-friendly, you can use their mobile-friendly test tool.
How Many People Visit Your Site From A Mobile Device, Really?
Probably more than you realize.
Darren Rowse, owner of Digital Photography School, shared statistics about his website from 2011-2014. In the first part of 2011, the number of mobile visitors to his site was less than 5%. At the end of 2014 that number was about 44%.
But your clients are different, you say? Well, consider this:
Here at Mark Brinker & Associates we serve clients in a variety of industries including medical, dental, health & beauty, industrial, financial and more. Across the board we're seeing an average of 20-25% (and as high as 49%) of website visits coming from mobile devices, which is about double from just 12 months ago.
To find out the number of mobile visitors to your site and see it with your own eyes, just dive into Google Analytics.
It All Boils Down To This
Do you care about giving your website visitors a great user experience when they visit your site from their smartphone? If you do, make sure your site is mobile-friendly.
A website that is not mobile-friendly can portray:
You're out of touch with the times.
You're too cheap or cannot afford to upgrade.
You really just don't care.
Converting your site to mobile responsive design will require investing a few dollars with your web developer because they basically have to build you a brand new site with brand new mobile responsive code. It's a fair amount of work.
The good news is that it won't cost as much as building a site totally from scratch because you'll be able to use your existing text, images and video — just reformatted and repackaged to be mobile responsive. Then once your site is converted it'll be good for years.