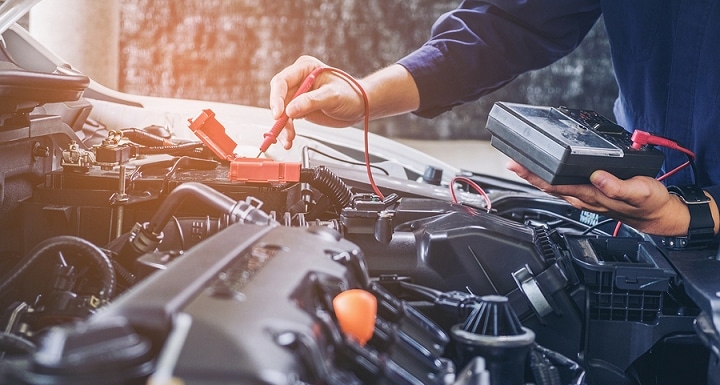 If it feels like your website is only running on 7 cylinders when it comes to lead generation, then something's definitely gumming up the works.
Today I'm going to help you pinpoint the problems so you can get them fixed and start cranking out more leads — and ultimately more sales.
After nearly 20 years of generating leads from my site as well as my clients' sites, I can tell you that 99% of website lead generation problems are because of the following 19 problems that can be grouped into 3 categories:
 Category 1:

TRUST 
Prospective clients do more research and vetting than ever, and your website is a key determinant in helping them decide if you're legit and can be trusted.
Here are 8 factors that damage trust and hurt your credibility when people visit your website to check you out:
1. Real-world contact info missing. Let's start with an easy one. Even if most people will connect with you via email or a contact form on your site, you should still list your physical street address and phone number on your site. People expect legitimate businesses to have a presence in the physical, 3-D world. (Here's the supporting data.) FUN FACT: Displaying a phone number with a local area code is perceived as more authentic than a toll-free number which could be located anywhere in the world. Once upon a time a toll-free phone number was a status symbol, but not anymore.
2. Lame About page. After your homepage, your About page will be one of the most visited pages on your site. Guaranteed. Your About page humanizes you and makes you real. It gives people a chance to hear your story and get to know you on a more personal level. One reason why so many websites have no About page or one that's poorly done is because they can be hard to do. That's why I created one of the most comprehensive, step-by-step (and free) guides available today for creating a great About page.
3. No testimonials. People want to know what others have to say about you. It's the same reason why we all read tons of reviews on Amazon before clicking the "buy now" button. Testimonials can be from clients you've worked with, but they can also come from colleagues, vendors or subcontractors. You just want others to vouch for you. NOTE: To cover yourself legally, make sure to get written permission from the person giving you a testimonial that you may use it on your website or in your other marketing material.
4. No case studies. Let's say you're a hair stylist, cosmetic surgeon or kitchen remodeler, showing some before & after pics is a great way to demonstrate the work you do. If you don't have before & after pics, then just describe what your client's problem was, how you fixed it for them and what the end result was. You want prospective clients to identify with one or more of your case studies so they say, "Hey, that's my problem. This person can help me."
5. Not addressing the elephant(s) in the room. This is a gaping hole on many websites. No matter what business you're in, all prospective clients have questions about:
Cost. The # 1 question everyone has is, "How much?" Even if you do custom work and every project has a different price, you can at least give people a ballpark figure of what things cost — then explain the factors that increase or decrease the cost.

If you sell premium-priced products or services you might be hesitant to openly discuss pricing for fear of scaring people away. But the irony is that you'll create even more anxiety by *not* discussing your pricing because people intuitively know that no listed prices equals expensive. In addition, if someone isn't going to be able to afford you, it's best that they learn this ASAP so they don't have to waste their time or yours.

Problems. No product or service is perfect for every situation. Everything has pros and cons. However, most websites only talk about the positives and sweep the negatives under the rug. But prospective clients aren't stupid. They have access to the internet just like you. If there's a potential drawback (either real or imagined) with what you offer, the best thing to do is tackle it head on. You'll gain their trust and respect, and they'll thank you for being honest .
Alternative solutions and competitors. Make prospective clients aware that you know about solutions other than yours. If a competitor offers a less expensive solution than yours, acknowledge the cheaper price but explain that the quality or workmanship might also be less. If there's a DIY solution on the market, sure, they might save a few bucks on labor costs but the task might be more far difficult than they realize. Position yourself as the trusted authority that's not afraid to compare and contrast competing products or services to yours.
6. Linking to social media ghost towns. Many business owners want the pretty social media icons on their website because they think it'll make them look modern and hip. What they often don't realize is that visitors do actually click on these icons. But you don't want to send visitors to an incomplete social media profile or one where there's no activity. That makes you look like a doofus. When in doubt, leave it out. At the very minimum, every business should have a Facebook Business Page. If you don't yet have a Facebook Business Page set up — no worries –just use my free, step-by-step process map, "How To Quickly Set Up A Facebook Page For Your Business" and you'll be up and running in no time.
7. Not providing a free sample or a small taste. Why is there always someone at Costco offering free samples? Why does Amazon let you peek inside most books and read a few pages? Because it generates interest (i.e. leads) and sales. It's classic "try before you buy". If you're an accountant, offer some sort of complimentary tax audit or analysis. If you're a personal trainer, offer a free class on how to use kettlebells to strengthen your core and help with lower back pain. You just have to get a little creative and come up with someone valuable that will give prospective clients a chance to "experience" you before committing to any major financial or time investment.
8. Not having a modern, professional-looking website. Looks matter. People do judge a book by it's cover. As Barbara Corcoran from the TV show Shark Tank mentions in the video below, the # 1 reason why she doesn't invest in someone is because they don't look the part:
NOTE: If you know you have good content for your website but it needs to be repackaged or redesigned, you might want to check out our free custom website mockup offer to get advice and recommendations for modernizing your site.
 Category 2:

TRAFFIC 
The best website in the world won't generate leads without traffic. Not only do you need a sufficient volume of traffic to your site, you need the right type of traffic.
9. Not enough traffic. To get more traffic to your site, there are only 3 strategies needed:
Paid advertising. If you have some money to work with, you can start driving visitors to your site within hours. Facebook and Google are where the action is at and they can supply you with all the traffic you'll ever need. But be careful because you can run up a huge tab in a hurry if you don't know what you're doing.
Blogging. If you have more time than money, start blogging. Publishing blog posts provides content for search engines to index and it gives people something to share on social media. But you have to publish consistently and write about things people want to read. Otherwise blogging will be a huge waste of time and effort, and produce few if any results. One of the best books I've found on what small businesses should blog about is They Ask, You Answer by Marcus Sheridan.
Direct mail. In the digital age, direct mail is the contrarian approach, but it can still work well. Some might argue that it works better than digital advertising because your postal mailbox is less crowded than your email inbox, not to mention it's harder to delete a postcard or envelope. The key point is that the direct mail piece is designed to get their attention and drive them over to your website. It's old school combined with digital. If you'd like a great resource on direct mail advertising for small businesses, visit postcardmania.com.
10. The wrong kind of traffic. You could send a ton of traffic to a textbook perfect website, but if those visitors aren't a good match for what you offer, you'll generate few if any qualified leads. For example, if you're a dentist in Seattle and you're advertising on Google, your ads should only be shown to people in Seattle and not to people in Detroit. (I see this mistake all the time.) If you're a financial planner running ads saying you have naked Kim Kardashian pictures, you'll probably get lots of traffic to your site but not many interested in financial planning services.
 Category 3: (Sales)

MECHANICS 
11. Murky messaging. How many times have you gone to a website and it's unclear what the site's about or whether they even have the the information you're looking for? Happens all the time, and it's one of the quickest ways to get website visitors to bail and go somewhere else. At the core of every successful website is a thoughtful, well-engineered, cohesive message. And it takes time, effort and numerous iterations to get this right. Two of the best books I've ever read that give practical, actionable tips to improve your writing are On Writing Well by William Zinsser and On Writing: A Memoir of the Craft by Stephen King.
12. Not using bullets points. Bullet points might be the single most effective tool for creating persuasive ad copy. Not only do they create visual breathing room on the page, many people are conditioned to go straight for the bullet points because they believe that's where the good stuff is at — all nice and tidy, devoid of fluff, just tell me what I need to know. Each bullet point should describe a problem your product or service solves or a benefit it provides. Try to list as many as possible because you never know which one will trigger your prospect to take action.
13. Not reminding them of their pain. I don't mean this in a sadistic sense. But the reality is that most human beings aren't going to take action if they're not feeling any pain. Frustration, overwhelm, embarrassment — whatever their pain is — when you reconnect them to that unpleasant state of mind they'll be much more receptive to how your product or service might help them. In addition, when you articulate the pain they're experiencing you'll connect with them on a deeper emotional level because they'll say, "Finally, someone who understands me."
14. No urgency. The fear of missing out (FOMO) is one of the best tactics for getting people to take action. When appropriate, attach a deadline or expiration date to your offer and I guarantee you'll get better response rates. You can also create urgency by letting people know supplies are limited. But don't create scarcity when there really isn't any. That's just douchey.
15. Offering stuff people don't want. Offering stuff people *need* instead of what they *want* is like trying to feed a 2 year old broccoli ice cream. No matter how good it might be for them, if they don't want it they don't want it. I've made this mistake on occasion over the years, so I know it's easy to do. The best approach is to just put your ego on the shelf and give them what they want. You can then gradually pivot and introduce your other less-sexy-but-better-for-them solutions after you've satisfied their initial craving.
16. Not asking enough. The number of times you ask people to buy is almost always proportional to how many sales you make. If you're an introverted person like me, asking people to buy over and over again might seem kind of pushy. But it's just something you have to do — within reason, of course, because obviously you don't want to be obnoxious and overdo it. This is why websites use popups, slide-ins and ribbons. Sure, a few people might not like them, but they work.
17. No lead magnet. Most first-time visitors to your website (A) don't buy on their first visit, and (B) never return. So you need to stay in touch with prospective clients via email, otherwise you're leaving a lot of business on the table. Putting a "subscribe to my newsletter" box on your website is pretty useless. That strategy stopped working about 10 years ago. Instead, to get people on your email list you need to offer them something of value like a checklist, template, special report, a book you wrote, etc. in exchange for their email.
18. Not split testing. Your website (as well as all of your marketing) should be an ongoing experiment in search of what gives you the best ROI. Don't assume anything. Test everything — headlines, ad copy, images, offers, layout, design … everything. What you'll often find is that the things you thought would be home runs end up falling flat, and vice-versa. You can use automated technology to do your split-testing, or you can change things manually and tally the results by hand. Either way is fine. The important thing is that you're constantly testing and tweaking your website to try and generate as many qualified leads as possible.
19. Not monitoring statistics. You need to use some kind of statistical tracking software so you can see what pages people visit on your site, what pages they're *not* visiting, how long they spend on each page, etc. Without hard data, you're just guessing, and it's hard (if not impossible) to figure out what's working and what's not. You can use free tracking software like Google Analytics or a paid solution like Clicky. I use both as a cross-check.
Just Pick One
When you read an article like this and it's easy to get overwhelmed with all the choices. Where do you start?
Just pick the one that's most obvious and critical — the one that jumps off the page at you — and work on that. Then the next, then the next. Keep it simple. Just do one thing at a time.
But do something.
If you're honest with yourself about any flaws with your website and you work on fixing those flaws, I promise you your website is going to generate more leads.